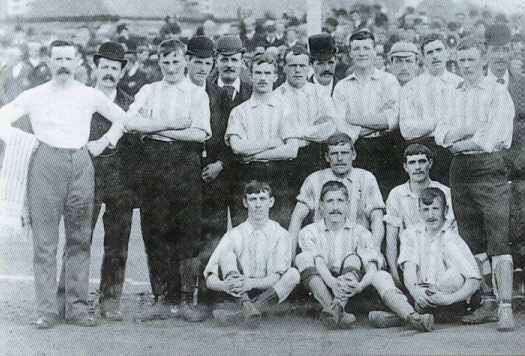 Dundee FC photo taken before the very first game against Rangers at West Craigie Park.
Dundee Football Club were born when Our Boys and East End Club amalgamated in the year 1893. The photo above shows the Dundee fc team before their very first league game against Rangers at West Craigie Park, a game which ended in a credible 3-3 draw.
(BACK ROW,Left to Right)Adam Marshal (trainer), Mr Sandy Spalding, Willie Thomson, Mr David McEwan, Mr Tom Shaw, James Brown, Bill Ferrier, Mr James McIntosh, Bill McKie, Mr J Black (referee), Dave Craig, Sandy Keillor, Mr James Petrie (President), (MIDDLE ROW)-Bill Longair, Bob Petrie.(FRONT)-John Craik, Sandy Dundas and Sandy Gilligan.
The game was played in front of a crowd of 5,000 mostly Dundee followers.
The scorers for Dundee were Gilligan, Keillor and Dundas, Jimmy Dundas went on to score 30 goals in all competitions that season 12 of which were in the league.
Dundee's first decade in the league saw them finish runners up 3 times and in 1910 they won the Scottish Cup when John "Sailor" Hunter scored the winner in a 2-1 victory over Clyde.
---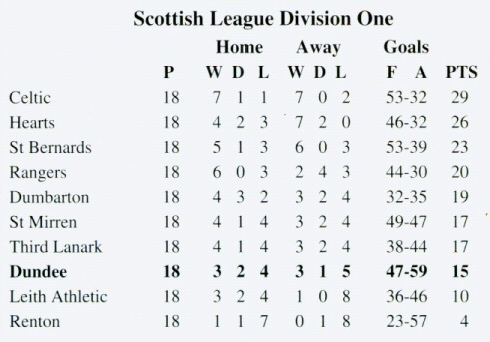 How the league finished in 1893


Dundee finished eighth in the league in season 1893-94 there was no promotion or relegation but the botom 3 teams had to apply for re-election along with new applicants.

Clyde and Dundee obtained 14 votes each and Leith got 8 to pip Cowlairs 4 votes, Renton 3 votes and Hibs 1 vote, for the division 1 places.

Dundee were defeated in the first round of the Scottish cup by Strathmore but the game was played on the same afternoon as a league game against St. Mirren.

Dundee won the Forfarshire cup on 20th January 1894 beating Dundee Harp 4-0 in a game that was played at Carolina Port which became Dundee's home ground on March 20th, untill then Dundee had played at West Craigie Park while Srathmore played at Carolina Port. In August 1899 Dundee moved from Carolina Port to Dens Park, the layout of the new ground was much smaller than Dens is now which has been steadily increased in size over the years.

The goal scorers that day were, Keillor 2, Dundas 2. Dundee's average .home gate that season was 4,300, they used 19 players all season and none were sent off

Dundee were relegated for the first time in 1938 and were runners up in the league to Rangers in season 1948-49.They won their first League Cup in season 1951-52 with Alfie Boyd scoring a last minute winner in a 3-2 victory over Rangers. They retained the Cup the following season when Bobby Flavell scored two goals to defeat Killie.
---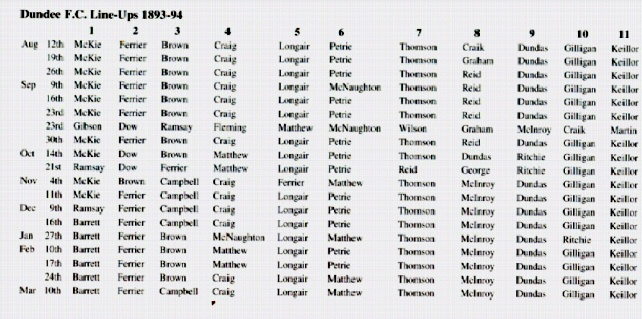 Dundee FC line ups for their first season
Shown above are the Dundee line ups for their first season in the year the team was born.
You may notice that number 11, Keillor is the only player to play in every league game of the season
---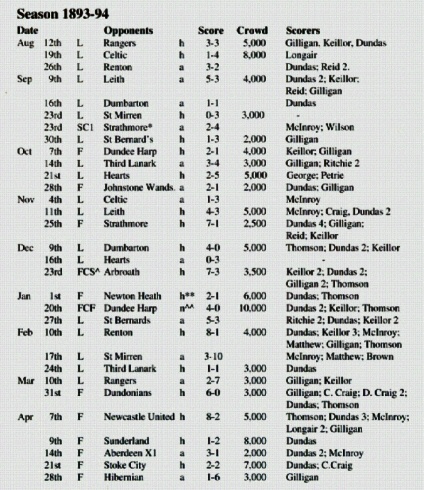 Fixtures and results for season 1893-94
The table above shows the fixture list and scores plus goal scorers for Dundee's first season in the Scottish league division 1. The two ** next to Newton Heath depict that they are now known as Manchester United.
The * next to Strathmore depict that the game was played on the same afternoon as the league game against St. Mirren.
Music "My Way" by Frank Sinatra
---
And so began the History of the Dark Blues we have all come to love and support.
---